Community Stories from the Frontline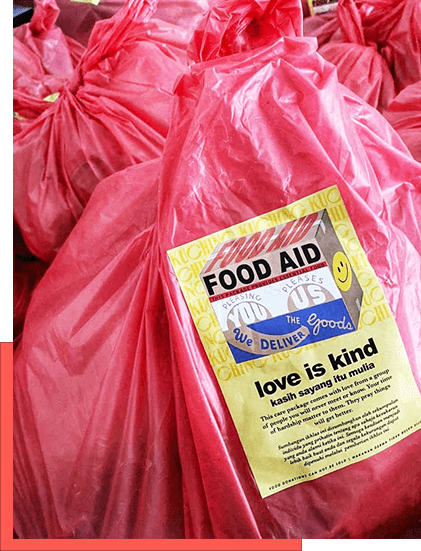 Lawas is a border town sandwiched in between Miri, Brunei and Sabah. Villagers from the surrounding villages are mainly fishermen, farmers and labourers dependent on a daily wage to make a living. The COVID-19 pandemic has caused significant job losses and many families have spiralled downwards into worsening poverty. Families are often large with between 5-10 children living under one roof and food insecurity has become a serious reality for many. Food aid has provided a life line to these families, many of whom are single mothers or elderly parents with differently abled children and patients with cancer or serious chronic illnesses.
Our volunteers recently delivered food aid to the family of Faizal, a 19 year old patient with Stage 4 cancer. Faizal had struggled for months travelling between Lawas & Miri to obtain a diagnosis but was too weak for treatment. He had been sleeping in a chair as there was no bed in his home and he was too frail to sleep on a mattress on the floor. Our volunteers raised donations to buy him a reclining wheelchair so he could at least sleep in comfort and also milk supplements as he was no longer able to eat. However when delivering the wheelchair and supplements, we also realised that his mother was also struggling to feed her other children, particularly as all the families resources had to be pooled over the last 4 months to cover the cost of hospital visits, long distance travel and medication. When we delivered food aid to Faizal's mother, tears streamed down her face and the sense of gratitude she expressed was overwhelming. Sadly Faizal passed away at home a few days ago. When we visited to pay our respects, his mother expressed how much our visits and tokens of care that we brought such as the food aid box meant to their family in their time of need. Despite the profound sadness we all felt, there was also a powerful sense of solidarity, knowing that as a community we are all here for each other despite the hardships and the suffering. And care and compassion know no limits or boundaries.
The residents of Kampung Punan Bah in Belaga are from the Orang Ulu Community. They are located in a village 2.5-3 hours from Bintulu town. Many of the younger residents have migrated to the towns and cities whilst those left behind are largely farmers, women, the young, the elderly and the sick. Those who are farmers have seen a drastic drop in their income over the last year as the COVID-19 pandemic has made it very difficult for them to get their produce to the local markets and major towns and cities. This has had a devastating impact on their family income. Other residents are elderly grandparents who are taking care of their young grandchildren whilst their adult children have migrated to the cities to earn a living. However these adult children are mostly manual labourers and daily wage earners and they too have found it hard to earn a stable income to send back to their parents and children in the longhouse. There has now been an outbreak of COVID-19 in the area and these longhouse residents are under lockdown. This has had a further impact on their ability to work on their farms and small holdings, and they are facing worsening economic hardship and food insecurity.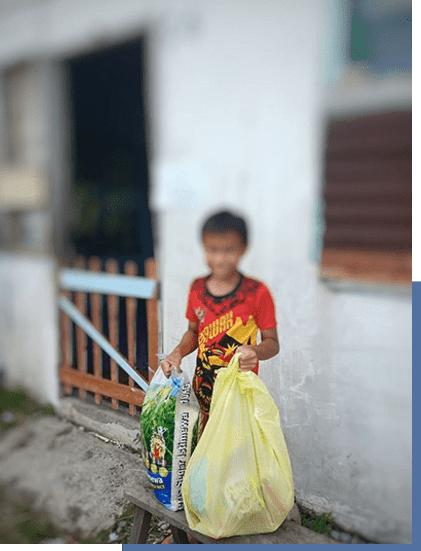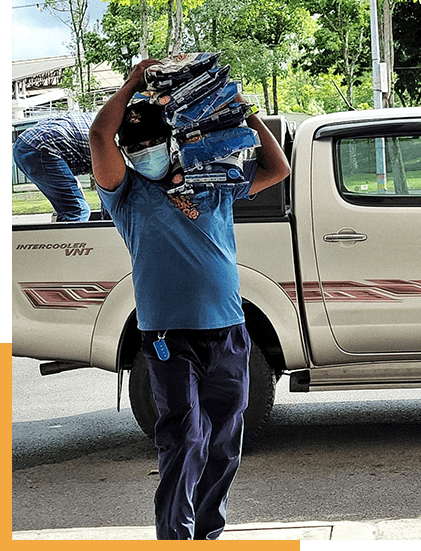 Tatau is located 2 hours from Bintulu and longhouse residents have been severely affected by Movement Control Orders as a result of the COVID-19 pandemic. Many of the longhouse younger residents have migrated to the towns and cities. Those who remain in the longhouse are mainly local farmers and palm oil small holders, often only earning a few hundred ringgit a month. They are dependent on selling crops at the local towns and markets and due to the lockdown affecting their longhouses they have lost their most vital income stream. Other longhouse residents include the sick and the elderly who are not able to earn a daily wage anymore. Many of them are facing a severe food shortage as a result of the lockdown, particularly in terms of rice supply. Food aid provided a much needed lifeline to help these poverty stricken families.
Opar is a district in Lundu, a coastal area around 1.5 hours from Kuching. Lundu is a beauty spot well known for its beautiful beaches and seafood. Many of those living in the area relied on tourism and the fishing trade for their livelihood. The COVID-19 pandemic has had a devastating impact on the livelihood of many families in the area as movement control orders has wiped out much of the tourism industry in the area. Local farming is another major economic activity in the area and local communities have found it difficult to sell their products due to the pandemic restrictions. Devastating floods earlier this year also took a toll on the community with many homes severely damaged by the floods. Families requesting food aid include a number of single mothers caring for children without a steady income stream and the elderly and sick. Food security especially for rice stocks is a major concern faced by many families in these villages. Food aid will provide vital support for these families currently living on the poverty line.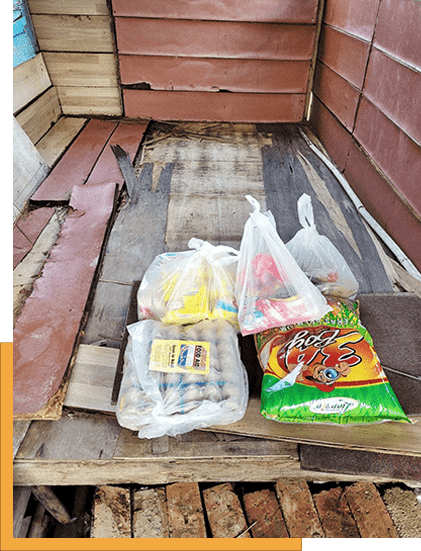 A few days ago we delivered food aid to a family in Kampung Betong, Jalan Punang Lawas, who live in the middle of a forest clearing. We had to trek around 10 minutes with the foodaid boxes through jungle to reach their home. Both husband and wife are in their 70s, suffering from medical issues. The husband has a hearing impairment and suffers from chronic breathing problems. However he continues to try and tend to his farm growing fruit and vegetables to feed his family, although this is becoming increasingly difficult. His wife suffers from a number of chronic healthcare issues but attending hospital check ups and taking her prescribed medication a couple of years ago as the family could not afford the trip to town and any top up payments for medication. The couple care for 2 differently abled adult children with learning difficulties. They receive a small disability benefit allowance each month for their children but this is their only source of income. The pandemic has hit them particularly badly and feeding the family has become increasingly difficult, particularly in terms of rice supplies. They were very grateful for the foodaid provided and wanted us to convey their thanks to the generous donors and volunteers working so hard on this project, providing a lifeline to families in need throughout Sarawak.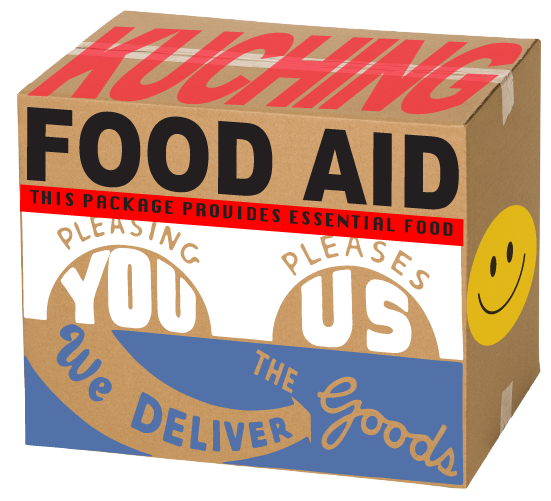 Kuching Food Aid help families facing food insecurity in Sarawak from impoverished communities who have been adversely affected by the COVID-19 pandemic. Many of our food aid recipients are single mothers caring for young children, the sick, elderly and differently abled. Other recipients include rural farmers, fishermen and labourers dependent on a daily wage to make a living. The COVID-19 pandemic has caused significant job losses and many families have spiralled downwards into worsening poverty. All volunteers give their time for free and pay for all travel expenses. 100% of your donations goes towards food aid only. There is zero administrative cost.