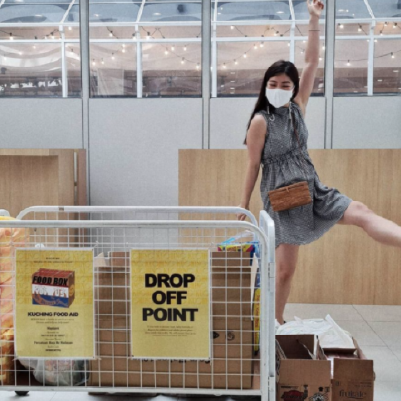 How Shen-Tel Lee is using social media to drive Kuching Food Aid
In 2020, we have seen how different organisations and individuals have risen to the occasion to extend a helping hand to frontliners, the poor and foreign workers. #KitaJagaKita. Enough said.
It's amazing how you've used social media for a great cause, what are your thoughts on this?
It has made me rethink about a space that is often considered to be so toxic. I can say that it can be a space for good and that more people need to use the platform to help connect donors with charities. I think social media has the ultimate power to help shed light on matters that people want to sweep under the carpet. I am a firm believer that "Sharing is caring" even if the topic is uncomfortable. People need to see and know more about what is actually happening in their own neighbourhoods and we have the time right now to actually stop and do something.
With help pouring in from Malaysians and those abroad, how did you manage the cash flow and get everything done on top of your day job while also looking into your family's needs?
The association is handled by two accounts staff who go over our daily expenses and help us pay for aid. We are constantly checking the fund to see if we are able to assist more families. My role is to keep sharing what we are doing daily and showing donors their food aid from the supermarkets, to the volunteers who deliver and then finally to the families themselves. Right now the calls for aid are coming in fast and large from Sibu, Miri and Bintulu.
We also have aid that is bought directly at local supermarkets and it's something I am very proud of. It's an initiative that donors love because they know their donations are going directly into food aid. The best thing about this is that we have aid credit sitting at supermarkets and when a call for 10 families come in, we are able to get the supermarkets to pack the aid quickly and get it out within 48 hours. It is a much more efficient and sustainable way to connect aid moving forward. Right now we only have this system in place in Kuching at five supermarkets – Online at Degrocery, Choice Supermarkets, Everrise at Green Heights Mall, The Gourmand and Fresh & Pay.
We are in talks to partner with supermarkets in Sibu, Miri and Bintulu. Hopefully in days to come our talks with the supermarkets will be the solution we are looking for.
Can you quantify how much contribution have you received so far?
Donations we have received to date have enabled us to connect food to over 5000 families, and purchase bedding for flood victims for just over 1000. During the month of December, we had donation bins in three local shopping malls so the local community could purchase aid and donate via the bins. We received so many items from diapers and milk formula, to toothpaste and rice that we connected with over 2000 families. We had to put a stop to the bins as the logistics to collect the aid twice daily, sort and re-pack the aid took a toll on all of us. It was a full-time job for a month just collecting and sorting aid. As a family we had to make the decision to stop, as much as we loved it. We do plan to bring it back yearly but with some improvements!
What have you learned about poverty in Kuching?
It is happening in all areas and the level of poverty is devastating. Covid-19 has taken away livelihood, daily part time work is very hard to come by now and for thousands without and source of job security, the stress of where their meal will come from is a daily occurrence. I have learnt that it is our responsibility to open our eyes, look and listen, now is not the time to close one eye and walk away. Now is the time to act, to do something. Now is the time, we as a community, need to commit daily acts of kindness to help our fellow brothers and sisters out.
What is your biggest takeaway from this experience?
I have encountered daily acts of kindness from people I don't know over social media. They have helped me, help more and I will never be able to repay them. They have trusted me to do good with their hard-earned money, they have seen the work we have done and they have spread awareness  through their own social media. My takeaway has been that even though we are so disconnected as a society during this pandemic, we are actually so much closely connected via technology.
It doesn't look like you're about to stop what you're doing, what's next?
We are ever evolving, and we are constantly learning and listening to how we can help. Now is not the time to stop. The need for food assistance is real during the pandemic. The calls are desperate, and our volunteers are pleading for aid. We will never have enough funds to be able to say yes to everyone. Right now, food aid is our main focus and getting more supermarkets involved around Malaysia is our main focus. I really want this to be a sustainable system, that encourages our community to buy aid via their local supermarkets.
What would your advice be for people who want to use social media for fundraising?
Do it! Show transparency, be truthful about the setbacks and ask questions. I made a lot of rookie mistakes along the way, but it was the kindness of total strangers who took the time to reply me and help!