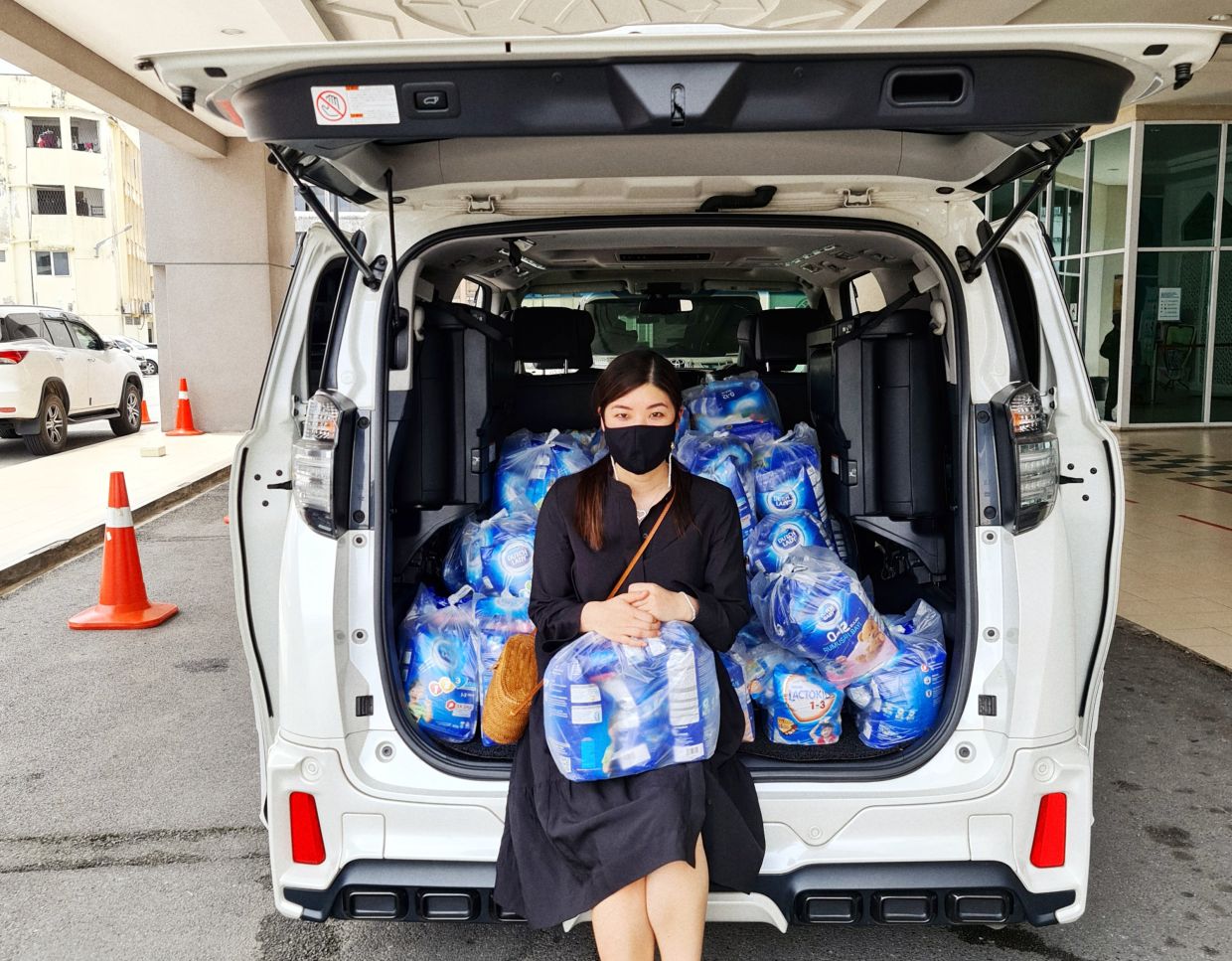 Entrepreneur helps thousands of families in Sarawak through food aid project
It all started with a humble request from a stranger for hand sanitisers and face masks in October last year.
Graphic designer-cum-entrepreneur Shentel Lee said the man stayed in an area located behind her office in Kuching, Sarawak.
"He was from Kampung Haji Baki, which was under the enhanced movement control order then due to the high number of Covid-19 cases, and they had no access to hand sanitisers and face masks," said Lee, 39.
After doing some research, Lee messaged him back saying she was willing to help.
"I then posted on my Instagram that I was going to raise funds to buy the items and asked if anyone wanted to chip in," she said.
That was at 11pm. The next morning, Lee woke up to "a sea of messages".
In less than 24 hours, she had managed to raise RM30,000, which was more than enough to buy the two items for 300 families. Lee also reached out to her friends in the pharmacy line who gave her a good rate for the products.
"I thought that was the end of it but people continued sharing my post on social media and more pledges started coming in," said the Australian-born Lee, who owns two online fashion labels based in Kuching.
Lee then reached out to the stranger and asked if the families needed anything else and he suggested buying milk and diapers.
As it turns out, this effort eventually served as the springboard for something bigger called the Kuching Food Aid, an initiative which has since helped over 15,000 underprivileged families throughout Sarawak.
Lee (right) with Raja Noor Akmar, who inspired her to start Kuching Food Aid.Lee was inspired to start the initiative by her family friend, Raja Noor Akmar Raja Kamil, who is also a Sarawak Women and Family Council member.
"Raja Noor is known for helping the underprivileged in her community. She took me under her wing when I told her I really wanted to go and visit underprivileged families with her.
"So I packed five food aid boxes and went together with her one day to deliver them," she said.
Lee shared that she was traumatised when she saw the living conditions of those families.
"I knew people in the community were in need, but I never realised how bad their living conditions were. I felt such a sense of urgency at that moment to get more aid out to the poor," said the mother-of-two.
Although they weren't under lockdown in Kuching at that time, most people were still afraid to be out and about. But Lee felt that these families really needed the food and she was willing to risk going out to help them with Raja Noor Akmar.
"But we were always very careful about safety, masking up and making it as contactless as possible."
What motivated Lee to keep doing so was seeing the grateful recipients.
What motivates Lee to continue helping others is seeing the gratitude shown by recipients."When we saw how much joy our visits brought them – the gratitude in their eyes – it made me want to continue doing it," she said.
Initially, all the packing was done by Lee and her family members. There were 22 of them, including her children, nieces and nephews, brothers- and sisters-in-law, and mother-in-law.
At that time, the whole family was also mourning the passing of Lee's father-in-law, businessman and developer Tan Sri Ting Pek Khiing. The packing work was tiring but it helped the family redirect their grief into doing something good for the community, said Lee, whose mother is from Kuching.
Coming together as one
As an entrepreneur, Lee took on Kuching Food Aid as if it was another business entity.
"Of course, there weren't any profits to be made. I used my own money first to start off, then did it with the help of my family and friends, and now, through Instagram," she said.
As they were all private donations, Lee realised that accountability was essential.
"I knew I needed to show transparency because when I give money to a charity, I also want to know where my money is going and how effective it is," she said.
With that in mind, Lee shifted from packing aid personally with her family to working with supermarkets. The first to get on board was an online grocer.
"Having volunteers pack the aid themselves isn't the most practical solution. Logistically, it's difficult to go to suppliers to collect the items and then find a location to pack it, and there are safety issues too," she explained.
"I wanted to create a sustainable and transparent system where the community can just buy the products at a local supermarket to help those in need," she said.
The Kuching Food Aid box that is available at certain supermarkets in Kuching, Sarawak.Lee then developed the Kuching Food Aid box, which is placed and sold as an item in a supermarket. Consumers can just buy the box, after which the supermarket will pack the aid items involved.
"We then allocate the aid to volunteers comprising NGOs, charity organisations, community leaders and people who know the underprivileged families personally," said Lee, adding that currently, they work with a total of six supermarkets.
"It's a pretty seamless system – the aid is all vetted and vouched for by the volunteers. And we make sure that we only send to areas which have not received government aid so that there's no duplication of resources."
Lee emphasised that the provisions are sent to anyone in need.
"We're not politically motivated nor racially driven. We have volunteer case workers who will check up on the families and find out what their situations are. The majority of those we send aid to are those who have completely no income."
Lee added that the pandemic has changed the way people raise funds – from physical events to online.
"Instagram is our main way of fundraising with 'digital volunteers'. Whether they're influencers or business owners, something has resonated with them and they're getting the word out about Kuching Food Aid.
"People are really invested in it. They love to see how their contribution is moving along the chain so we use Instagram to share about how many missions we have, when the volunteers collect the aid from the supermarkets, and when it reaches the families.
"All the businesses connected to Kuching Food Aid have also been contributing 5% of their profits to the initiative and it's encouraging to see them give back in their own way," said Lee.
Early this year, Lee returned to Sydney, Australia, where her children go to school, and she thought that was the end of Kuching Food Aid, but the opposite proved true.
Local youth helping to deliver aid to villagers at Kampung Hilir Sebauh on the first day of Hari Raya."In Kuching, I was more invested in packing the aid, going out to visit the families and being a ground volunteer. But when I returned to Sydney, I discovered I was able to do far more in terms of fundraising by not being on the ground. Being so far away has in some ways helped me to focus on helping my fellow Sarawakians," she shared.
When Lee was in Malaysia, she also didn't think of helping people beyond Kuching. But when she left, she realised that there were many other areas like Miri, Bintulu, Sibu and Mukah that also needed help when people started messaging her through Instagram.
Her initiative has since expanded to those areas as well.
Lee said what she loves most about the Kuching Food Aid project is that it's a community-driven initiative and the community dictates its future.
For now, her main aim is to get more supermarkets to pack aid and to encourage shoppers to add the Kuching Food Aid box to their cart and help someone in need.
For more info, contact Kuching Food Aid through Instagram and Facebook.